Exhibition
Home
> Exhibition and Sponsorship > Exhibition
Overview
The Congress Exhibition will be located in Grand ballroom on 3rd floor of Daegu Exhibition and Convention Center (EXCO). The Grand ballroom will be consisted of poster session and a number of social spaces including coffee break, lounge and sponsor's speaking slot to maximise footfall and interaction with close proximity to networking and catering areas.
Stand Prices for the duration of the Congress
The Standard booth includes
Back & Side walls, Pytex carpet floor, 1 company signage, 1 booth number signage
1 Information desk & 2 chairs
Power supply (1KW) per unit (booth)
Lighting (2 fluorescent lamps, 3 spot lights)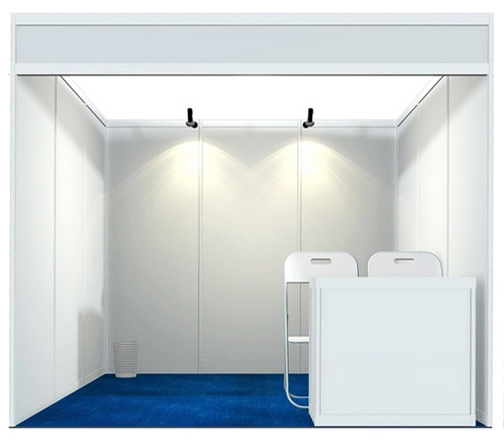 Standard booth example
The Raw Space includes
Space only
3*3m per booth
Conducting installation of facilities for exhibition and decoration on your own by choosing the specialised service providers
How to apply
Step 01

Online Application Submission

Step 02

Invoice Issuance

Step 03

50% deposit payment within 30 days after the invoice issuance

Step 04

Payment of remaining balance by 28 February 2020
Key Dates
Deadline for Application

28 February 2020
Payment
All payment should be made by bank transfer. All bank transfer fees will be charged.

After the application submission, the XVII congress secretariat will be issuing invoice by email. The 50% deposit should be made within 30 days after the invoice issuance and the remains should be paid by 28 February 2020. All applications made after 30 January 2020 should be fully paid within a week after the invoice issuance.
Cancellation Policy
Any cancellations must be notified to the XVII Congress Secretariat in written form to wwc2020@exco.co.kr.
Cancellation after 1 March 2020 will result in a 100% cancellation charge.
50% of the total payment will be deducted for cancellations requested before 28 February 2020.
Bank remittance & administration fee will be charged.
It will be refunded after the congress by only bank transfer.
Contact
The XVII Congress Secretariat